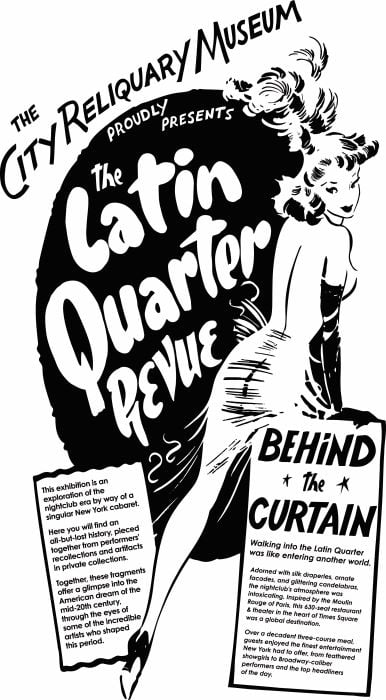 May 20, 2023 through January 2024
The City Reliquary is proud to partner with guest curator Kirsten Larvick on a new exhibition, The Latin Quarter Revue: Behind the Curtain, which explores the nightclub era by way of a singular New York cabaret: the Latin Quarter, which originally operated in Times Square from 1942 to 1969.
A combination of archival footage, photos, ephemera, and more will reveal the life–and afterlife–of this iconic New York nightlife space, offering a glimpse into the midcentury American dream through the eyes of some of the incredible artists who shaped it.
A joint effort by Boston nightclub impresario Lou Walters (father of famed reporter Barbara Walters) and theater and cinema entrepreneur E.M. Loew, the club was inspired by the cabarets of the Paris Latin Quarter district from which it took its name, and other areas of the rive gauche. This 630-seat restaurant-theatre in the heart of Times Square was a global destination. Performers included Broadway talent, beautiful showgirls, and major headliners such as Mae West, Ella Fitzgerald, Frank Sinatra, comedians from Shecky Greene to the Ritz Brothers, and adagio dancers Francios Szony and Nancy Claire.
By the mid-1960s, the US experienced political and cultural upheaval that forced a re-evaluation of the American Dream. In New York, these changes transformed the landscape of Times Square into the gritty arena it would remain into the 1980s. Amidst this backdrop, the once sumptuous cabarets were seen as gaudy remnants of yesteryear's naivete. By the end of the decade many clubs turned out their lights, including Lou Walters' World Famous Latin Quarter.
Kirsten Larvick is a documentarian and archivist. She directed the award-winning John Hemmer & the Showgirls (2017), which tells the story of John Hemmer, a singer at the Latin Quarter in the 1960s. She is the founder of the Al Larvick Fund and a board co-chair of the Women's Film Preservation Fund.
The Latin Quarter Revue: Behind the Curtain is dedicated in loving memory of John Hemmer and the many other Latin Quarter performers who are no longer with us.