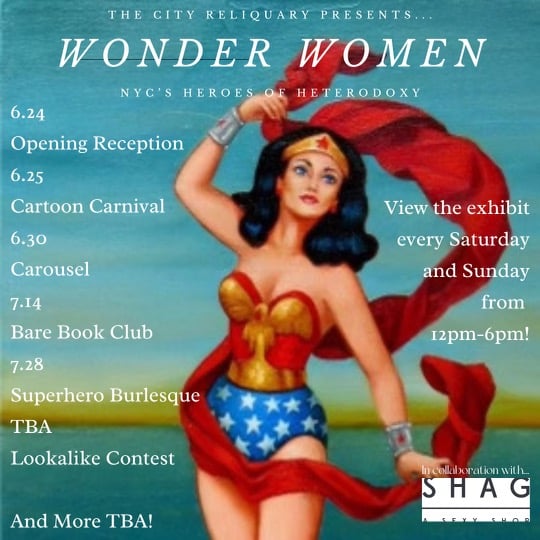 The City Reliquary's new exhibit, Wonder Women: NYC's Heroes of Heterodoxy spans topics of feminism, equality, and community—all subjects that we at the museum hold dear and are determined to highlight and uplift.

In the spirit of Wonder Women everywhere, we have teamed up with some amazing community members to educate, inspire, and entertain you!
Get tickets to all events here, at our Withfriends events page. Museum Members may reserve free tickets through the same page.
Friday, June 24th
Opening Reception
– Open house, museum tours, informative talks, and some surprise performances –
 
Saturday, June 25th
Cartoon Carnival
– Vintage 33mm film cartoon showing with the theme: Wonderful Women –
 
Thursday, June 30th
Carousel

– A comics reading and performances focusing on Women in Comics –
Thursday, July 14th
Bare Book Club
– Women who love to read naked will be reading excerpts from articles, books, slash fiction, and more celebrating the world of comics –
 
Thursday, July 28th
Superhero Burlesque

– A sexy show where all kinds of superheroes take it all off in the name of comics –
Friday, August 26th
Lookalike Contest
– Enter to win a variety of prizes in several categories in this silly and enthralling competition to be the most like Wonder Woman –
Click here to submit a short form to compete!
And More TBA!