Thanks to our friends at UnionDocs, who have given us free access to the brilliant documentary LOS SURES (1984) to commemorate our final episode for this season of Undiscarded which discusses the gentrification of South Williamsburg. Click here to view this masterpiece for FREE –"LOS SURES • 1984" (no membership is required, but you must enter your email address). For more on this project please check out – https://lossur.es/
LOS SURES • 1984
Diego Echeverria's film skillfully represents the challenges residents of the Southside faced: poverty, drugs, gang violence, crime, abandoned real estate, racial tension, single-parent homes, and inadequate local resources. The complex portrait also celebrates the vitality of this largely Puerto Rican and Dominican community, showing the strength of their culture, their creativity, and their determination to overcome a desperate situation. Beautifully restored for the 30th-anniversary premiere at the New York Film Festival, this documentary is an invaluable piece of New York City history.

Copies of our Guest Richie Narvaez's book "Hipster Death Rattle" about a serial killer on the loose in a gentrifying Williamsburg are available here for purchase.

By Tania Mohammad
Back to home
When you think of museum-worthy artifacts in New York, your mind probably goes to well-established cultural institutions with big names. The Met boasts incredible pieces like their most ancient artifact, a set of Acheulean flints from Deir el-Bahri, dating back to the Lower Paleolithic period. If you are in more of an American mood, you can see the Bible from George Washington's inauguration at the New-York Historical Society. These pieces are undeniably inspiring, deserving of our time and contemplation, and contribute to the city's cultural appeal (just ask the hoards of tourists visiting our city!).
The City Reliquary's motley crew of items may not fit the typical definition of "museum relics," but I hope we've established, through the art of podcasting, just how special they are. These items originate from everyday New Yorkers, reflecting the city's ever-evolving natural environment. In this season, you've heard about a sign from a beloved deli (Ep3), a broken shovel discovered by a tunnel engineer (Ep11), an old lightbulb from the Statue of Liberty's keeper (Ep1), and more everyday artifacts. More often than not, these items find their way to the museum via a passionate collector or museum volunteer who insists that it deserves its time under the bright lights of a display case. I was curious how this unconventional approach to artifacts would translate into getting support for the show. Thankfully, every guest I spoke to went the extra mile with enthusiasm and passion for their topic, and every collaboration I sought out expressed genuine love and interest for this little, overcrowded space, built on passion alone. Thank you to our Season 1 partners 2nd Ave Deli, New-York Historical, and Queens Museum. Be sure to visit them this summer!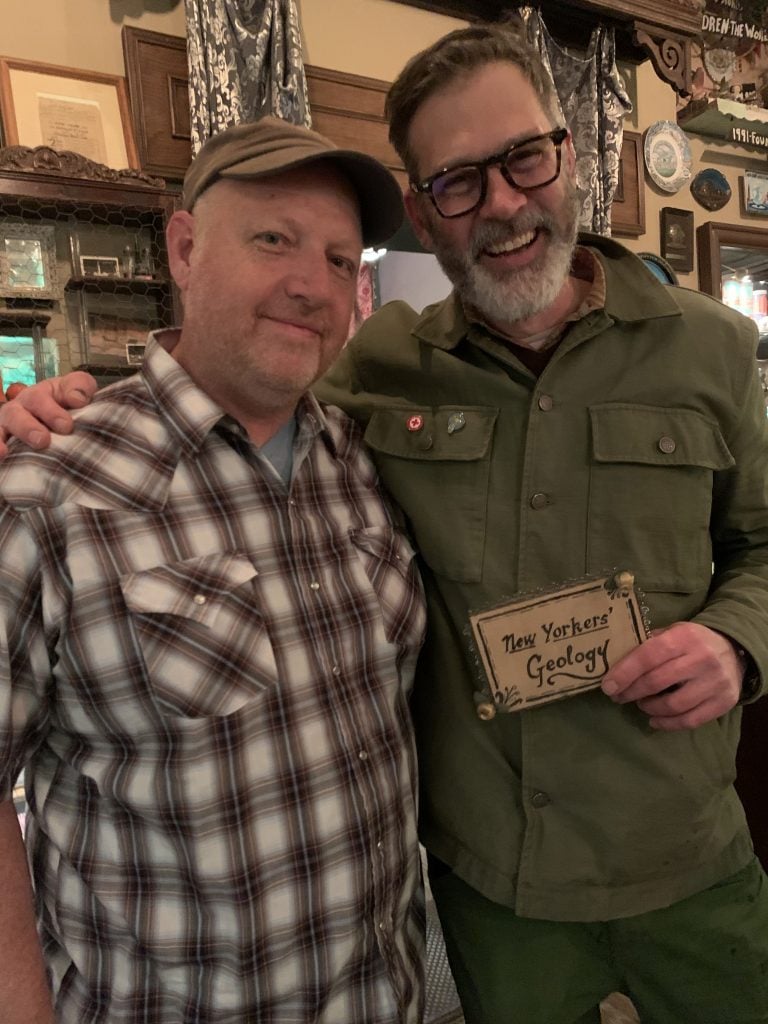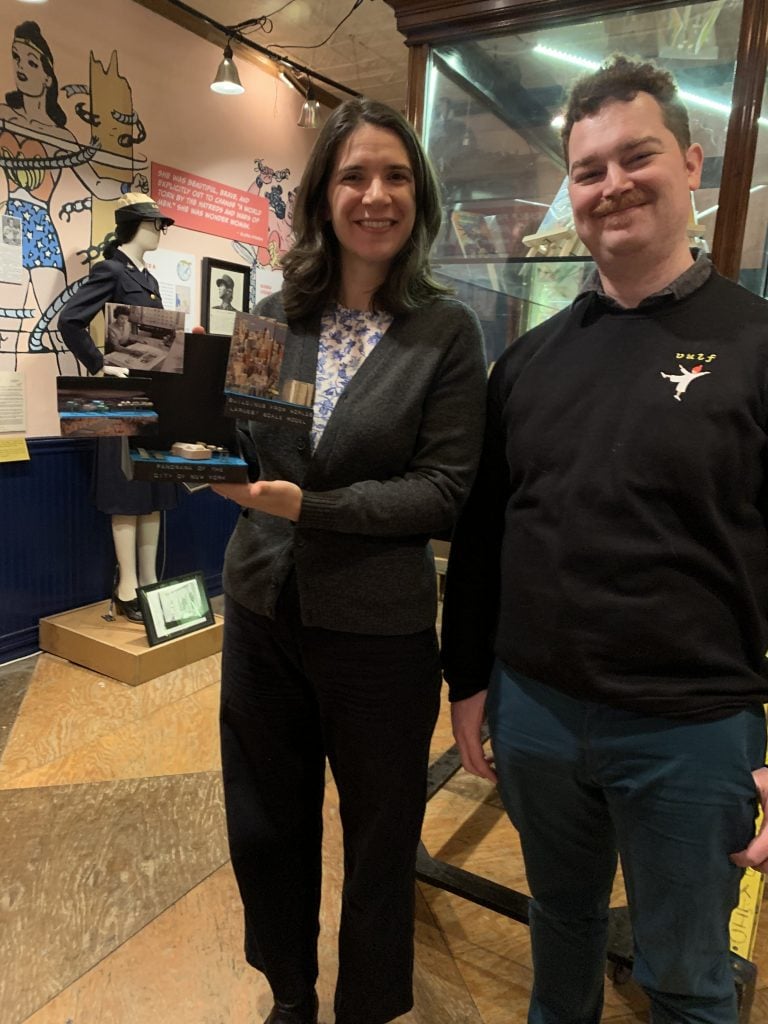 The City Reliquary has always been a community organization at heart, so it was fitting that we ended on a local neighborhood note. Richie Narvaez, an award-winning author, expert on Latin Noir, and guest on the podcast had a special connection to a peculiar artifact featured in the season finale of Undiscarded. This particular relic is prominently displayed at the City Reliquary: a wedding cake with a risqué topper. It comes from La Villita Bakery, a Mexican bakery that stood for 18 years on the corner of Grand Street and Bedford Avenue but was forced to close at the end of February 2013 after the landlord raised the rent from $5,000 to $10,000. A tale still as old as time, alas. Although the icing has long congealed and rotted, the cake still holds a sweet space in the memory of those who remember not only the bakery, but, as the remnants of Los Sures, a south Williamsburg that is no more. The bakery was cherished for the universal NYC hangover cure (and icon) the greasy egg and cheese sandwich, beloved Latino specialties, and sugary desserts. La Villita also garnered plenty of attention from passersby on the street for its window display cakes, with quirky toppers. The voluptuous topper on our final artifact also was a mascot nicknamed XoXa for a hip Latin blog Remezcla (local to Williamsburg at the time) which has now become a major media company.
In this episode, we look at South Williamsburg with new eyes and acknowledge its existence as Los Sures, where Richie Narvaez was born and raised. Los Sures (the south) was a tough neighborhood and was home to a close-knit community of largely Puerto Rican (from the 1940s/50s) & Dominican (1970s) immigrants. The beautiful documentary by UnionDocs titled "Los Sures" captured the essence of the neighborhood and its struggles at a time when it was one of the worst neighborhoods in the city. The footage is unrecognizable from the shiny, polished, tall condo-dense neighborhood today, but it shows the immense sense of community & loyalty that is unique to NYC neighborhoods. Despite the challenges, it was their home, and they lived, laughed, and survived until many were eventually pushed out due to rapid changes in the neighborhood. Here are some stills from the documentary which was re-released as part of a larger project with UnionDocs: LIVING LOS SURES (2014) (more info in the resources section). Please take your time to view this show that BAMcinématek called, "Both an invaluable record of pre-gentrification Brooklyn and an ode to a community's resilience."
Images Courtesy of UnionDocs Center for Documentary Art /Living Los Sures
This brings me back to the subject of our unique cake, our final artifact for Season 1. Though every item in the museum holds a personal story, I didn't realize just how deep the story went with La Villita. I can't really phrase it as eloquently as Dave Herman (City Reliquary Founder) did, so here you go:
"When pulling together the very first City Reliquary display window in 2002, I wanted this display to represent the character of our neighborhood, inspired by what I saw in nearby windows. One of those was at the storefront bakery, La Villita where I would stop each morning for my 50¢ "cafe con leche caliente." There was always a line out the door, and cakes in the window were often past their prime. The display cakes were topped with clowns, wedding figurines, bachelorette and bachelor dolls, all adorned with lovingly sculpted frosting flowers. All of this sugar icing covered a styrofoam cake form. Not knowing this at the time, and with limited Spanish-speaking ability, I ordered one regular cake to put on display at the new City Reliquary Museum. Existing solely in the window display cases at the time, our micro-museum was "Always open. Always Free."

Inevitably, a small critter got into the delicious, if hardened cake and nibbled a hole in it. So, the original City Reliquary La Villita cake did not last as long as its counterparts in the bakery. Explaining this to the owners, Maribel Meza and Alfonso Sosa, they offered to give me a cake directly from their windows the next time they swapped them out. It would be a genuine artifact actually displayed at La Villita! On what was coincidentally my birthday later that year, Alfonso reached across the counter with a cake in his hands saying, "For you! From our window!" That true relic was displayed at the new City Reliquary storefront museum until the day La Villita closed in 2013.

On closing day, I brought flowers to Maribel and Alfonso, but immediately left to retrieve what was more needed that day; a box of tissues for all the weeping employees and patrons who had been a part of each others lives for the past 17 years. At that time, Maribel reached into the window, with some help, to pull out the 3-tiered wedding cake that had been in their display. We swapped out the traditional wedding figures for the iconic bachelorette that caught so many eyes walking down Bedford Avenue until then. It seemed Williamsburgh wouldn't be the same without her.

The cake has continued to age over the years, despite our efforts to seal it with spray shellac. But it continues to be a true relic, remaining in Williamsburgh, and representing a small part of the culture that has made this neighborhood such a desirable destination. "

** The emotion of that last day of La Villita can be seen in a film called the Last Bread that documents emotional interactions between regulars and the owners on thier last day of business. Also part of the Living Los Sures project.
In a city with constant change, the Reliquary preserves these artifacts as an anchor to an era or a place that is no more. These mundane artifacts are valuable because of the meaningful connections they represent and the local stories behind them, not because the item itself is worth a ton on eBay. That has been the aim of Undiscarded to shed some light on these forgotten stories and I hope we've made you care about the old rollerskate, discarded replicas from a museum model, or a kitschy souvenir. They serve as reminders of the intricate tapestry that makes up the city's history and the importance of cherishing our neighborhood touchstones and memories in the face of rapid urban transformation. We'd love to hear what you thought of this first season and what are some of your favorite items at the Reliquary. Do reach out to the Reliquary at [email protected] or to me directly at [email protected] with comments because there are so many more stories to tell and we'd love to know your favorites!

References & Resources:
More on Richie Narvaez, Author and resident of Los Sures (About)
A blog post on his childhood Apartment in Los Sures
Purchase Hipster Death Rattle- Murder is trending. Hipsters are getting slashed to pieces in the hippest neighborhood in New York: Williamsburg, Brooklyn. While Detectives Petrosino and Hadid hound local gangbangers, slacker reporter Tony Moran and his ex Magaly Fernandez get caught up in a missing person's case–one that might just get them hacked to death.
Recommended Reading from Richie!
A Puerto Rican in New York, by Jesus Colon
The Latin Deli, by Judith Ortiz Cofer
War Against All Puerto Ricans, by Nelson A. Denis.

Union Docs – LIVING LOS SURES • 2014
Produced over 5 years by 60 artists at UnionDocs Center for Documentary Art, LIVING LOS SURES is an expansive project about the Southside of Williamsburg, Brooklyn. Known by its long-term Latino residents as Los Sures, the neighborhood was one of the poorest in New York City in the late 70s and early 80s. In fact, it had been called the worst ghetto in America. Today, it is the site of a battle between local identity and luxury lifestyle. With the restoration of LOS SURES, a brilliant work of cinéma vérité filmmaking as a starting point, the project has developed into a collection of 40 SHORT FILMS, the interactive documentary 89 STEPS, and the cinematic people's history SHOT BY SHOT, demonstrating new possibilities for collaboration between an arts institution and its surrounding community to collect memories and share local culture.
Watch:
LOS SURES • 1984 the movie for FREE (email entry required no membership fee)
The Last Bread directed by Maria Rosa Badia
Of Memory & Los Sures animated oral history project from Laurie Sumiye & Andrew Parsons
All part of the Living Los Sures Project from Union Docs
La Villita Bakery
After 17 Years In Business, Beloved Williamsburg Bakery Gets Priced Out – Gothamist
In a Bakery Window, Shades of Miss Havisham – NY Times
La Villita Forced to Close in Williamsburg – The Village Voice
XoXa in the NYTimes!!! – Remezcla

Los Sures
Los Sures: The Brooklyn You've Never Been To – Brooklyn Magazine
'Los Sures' continue mission to protect Hispanic community in Williamsburg – News 12 Brooklyn
THE POWER OF LOS SURES (EL PODER DE LOS SURES) – The People's Art Project – Inside Out
How a Lost VHS of "Los Sures" Sparked A Movement to Preserve Williamsburg Latino Heritage – Remezcla