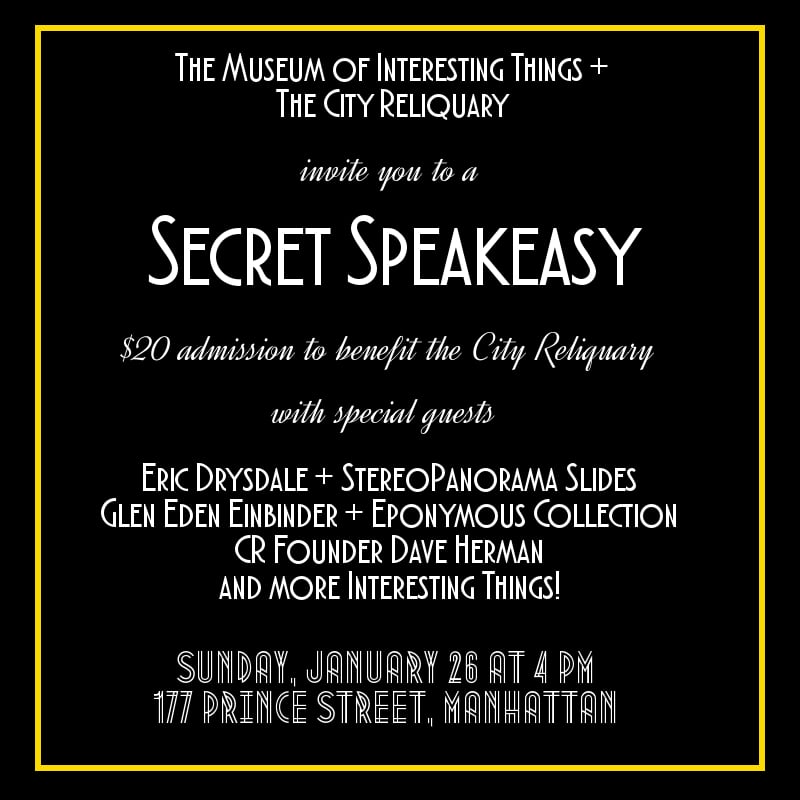 Sunday, January 26, 2020 at 4 pm
The Loft at Prince Street – 177 Prince Street, Manhattan
Advance Tickets $20 – Includes admission to the Museum of Interesting Things vintage film event following at 6 pm
Proceeds benefit the City Reliquary Museum
Your favorite collectors of historical curiosities are joining forces! We hope you'll join us for a very special benefit event hosted by the Museum of Interesting Things! On Sunday, January 26 from 4 to 6 pm, the City Reliquary Museum will hold a Secret Speakeasy pre-show at The Loft on Prince Street. We'll have unusual facts and artifacts from the collection of our founder Dave Herman, plus additional surprises! And your ticket includes admission to the Museum of Interesting Things vintage 16mm film jukebox (and more) at 6 pm. Refreshments will be available (it is a speakeasy, after all!) and there will be many marvels to see in this beautiful Soho space.
Advance tickets are highly recommended and available here! Your purchase will benefit the City Reliquary Museum and help us produce events and exhibits throughout 2020!
Many thanks to Denny Daniel and the Museum of Interesting Things!
Tags: Denny Daniel, Events, Museum of Interesting Things, secret speakeasy