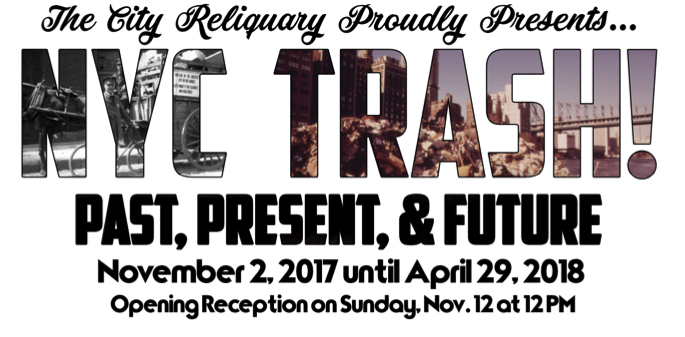 Join us for a brunch reception on Sunday, November 12 at noon to celebrate the opening of NYC Trash! Past, Present, & Future.
We will be joined by Council Member Antonio Reynoso, representative for District 34 and Chair of the council's Committee on Sanitation and Solid Waste Management. Representatives from the Bureau of Recycling and Sustainability of the NYC Dept. of Sanitation will distribute free bags of compost to promote their new curbside Organics Collection program.
$5 admission includes complimentary coffee courtesy of Oslo Coffee Roasters and light refreshments. Brunch cocktails and Brooklyn Brewery beer available by suggested donation.
This exhibition presents the stories behind New York's solid waste, from "one man's garbage is another man's gold" to the inventive ways New Yorkers are reusing and recycling. It traces the trajectory of waste management in New York, from the squalid nineteenth-century tenements documented by Jacob A. Riis, to the Dead Horse Bay landfill and the beginnings of the NYC Department of Sanitation at the turn of the century. It also addresses the mid-century landfill of Fresh Kills on Staten Island and the ecological restoration project currently underway to convert this site into park space.
The exhibition culminates in profiles of seven artists and nonprofits that offer innovative ways of considering waste now and in the future:
Mierle Laderman Ukeles, whose work highlights overlooked social aspects of trash disposal. Update: Mierle Laderman Ukeles will attend the Nov. 12 reception for NYC Trash. Unfortunately, her artwork "The Social Mirror" will not be on display at the Reliquary. DSNY has discovered damage to the truck that precludes moving it from its storage facility. Ukeles's 1983 work The Social Mirror will be on display at the Reliquary for the November 12 opening reception.

Larry Racioppo

, NYC 2016 Best Unknown Photographer, whose work focuses on the urban landscape. See his recent blog post for the Brooklyn Public Library.

Hack:Trash:NYC

, aims for zero waste sent to NYC landfills by 2030. Their 2017 hackathon invites creative solutions to waste management.

Industrial/Organic, dedicated to converting organic food waste to high-value resources
Lower East Side Ecology Center

, a nonprofit that collects electronic waste and separates it for reuse and recycling

Materials for the Arts, a nonprofit that collects and distributes art supplies and materials to nonprofit organizations with arts programming and public schools
RISE Products

, creates nutritious ingredients from upcycled organic byproducts, which reduces waste and preserves the environment
The exhibition will also explore the role of trash as cultural archive through objects selected from the Treasure in the Trash collection of Nelson Molina. In his thirty years on the job as a DSNY employee, Molina amassed a monumental collection of ephemera picked from the castoffs of everyday New Yorkers. Read more about his museum in this New York Times article.
NYC Trash! runs from November 2, 2017 to April 29, 2018. A display of trash art by a number of local artists will complement the exhibition and will open in the Reliquary sculpture garden on April 5, 2018.
---
This exhibition is generously sponsored by:
Jacquelyn Ottman (author of The New Rules of Green Marketing and founder of WeHateToWaste.com)
Sims Municipal Recycling
Sun Bear Media
Tags: DSNY, Exhibits, Larry Racioppo, Mierle Laderman Ukeles, Nelson Molina