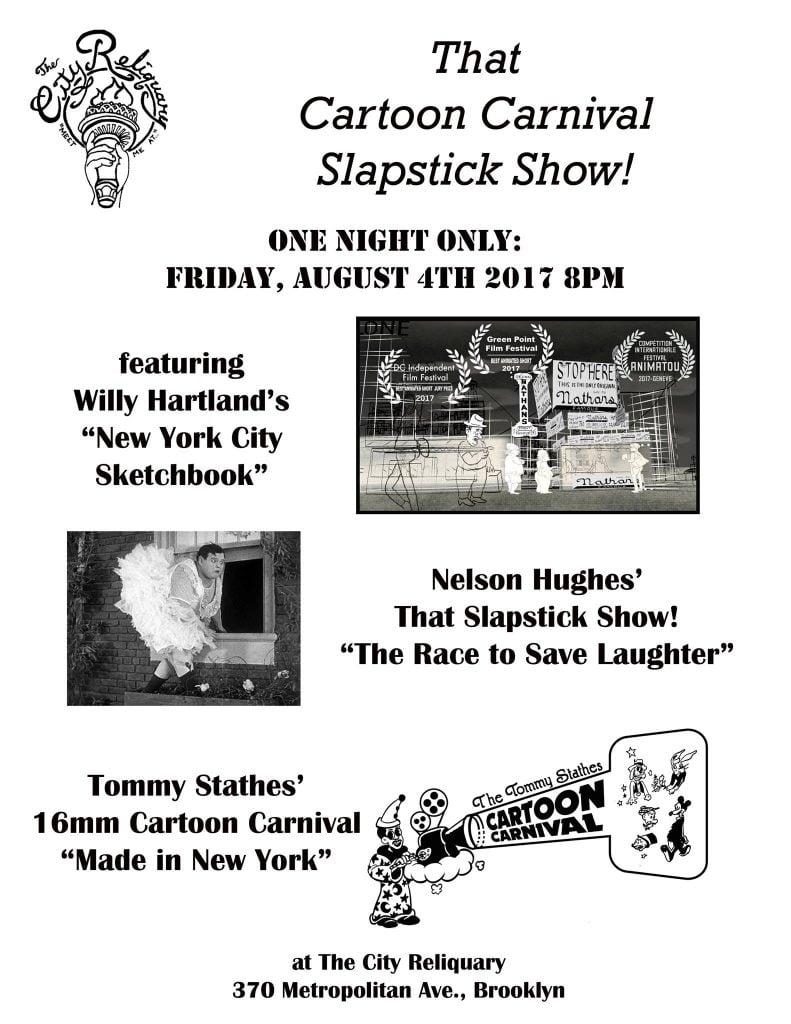 On Friday, August 4 at 8 PM, three figures of New York City's offbeat film history, exhibition, and animation circles converge in our beautiful backyard for a unique screening of archival and contemporary short films that are not to be missed!
Brooklyn-based animator Willy Hartland begins our program with a screening of his award-winning animated short, New York City Sketchbook. Hartland says he seeks to "explore the urban experience unfiltered, with all its beauty and its blemishes. Working from my sketchbooks, in a form of visual journalism, the film attempts to document the challenges that New Yorkers face with their hopes and desires as they negotiate the urban matrix of the city itself."
The second part of the program focuses on live-action archival silent film. That Slapstick Show, curated by Nelson Hughes, delivers The Race to Save Laughter, a selection of silent comedies that were once considered lost for decades, then subsequently found and recently preserved by major film archives.
The evening concludes with rare shorts from Tommy José Stathes' long-running Cartoon Carnival series. This special installment features historic 1910s-1930s animated cartoons produced in New York City, and projected on 'reel' 16mm film. Be sure to catch this one-night-only event before these films go back in the vault!
Contributors:
Willy Hartland: http://www.willyhartland.com/
Tommy José Stathes: http://tommyjose.com/
Nelson Hughes' Slapstick Comedies Fan Page: https://www.facebook.com/groups/149005355292858/
Admission: $10 at the door.
Beverages available by suggested donation, with beer from Brooklyn Brewery.