Posts Tagged 'Now In History'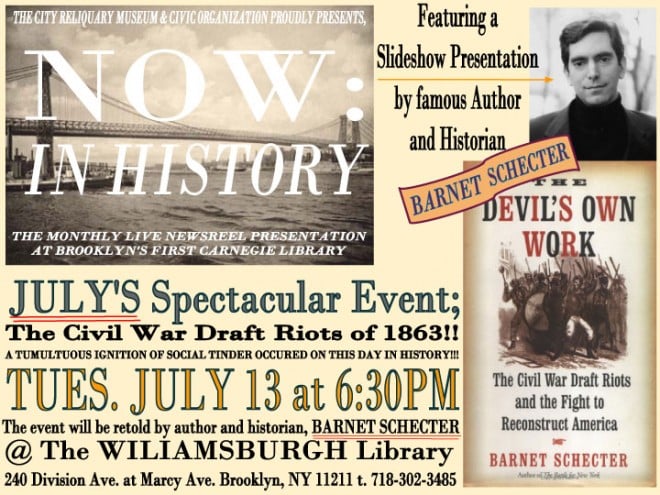 NOW: In History!
The monthly live newsreel presentation at
Brooklyn's FIRST Carnegie Library in Williamsburgh.
Tuesday, July 16th 2010
Refreshments at 6:00 PM, Lecture at 6:30 PM
Williamsburgh Library, 240 Division Ave. at Marcy Ave
The Second installment of: NOW: In History! at the Williamsburgh Library Auditorium
will feature New York City historian and author of "The Devil's Own Work,"
Barnet Schecter on the topic of…
The Civil War Draft Riots of July 1863
About "NOW: In History!"… This new lecture series brings prominent authors, historians, and experts on New York City History to this LANDMARK BUILDING in Southside Williamsburgh. Each lecture is themed after a historic event which occurred during that month in NYC history.
About the Williamsburgh Library… With imminent Brooklyn Public Library budget cuts topping over $20 Million and a massive borough-wide cutback on library hours and resources, the historic Williamsburgh Library is losing critical funding. This new program series aims to bring the attention of those who love our local history to a public institute deserving of its support.
At the Williamsburgh Library, 240 Division Ave. @ Marcy Ave. Bklyn, NY 11211
t. 718-302-3485
Admission to all BPL programs is FREE.
Donations to the "Support our Shelves" campaign will be gratefully accepted!