Beyond Patience & Fortitude:
In Protection and Celebration of New York's Diverse Cultures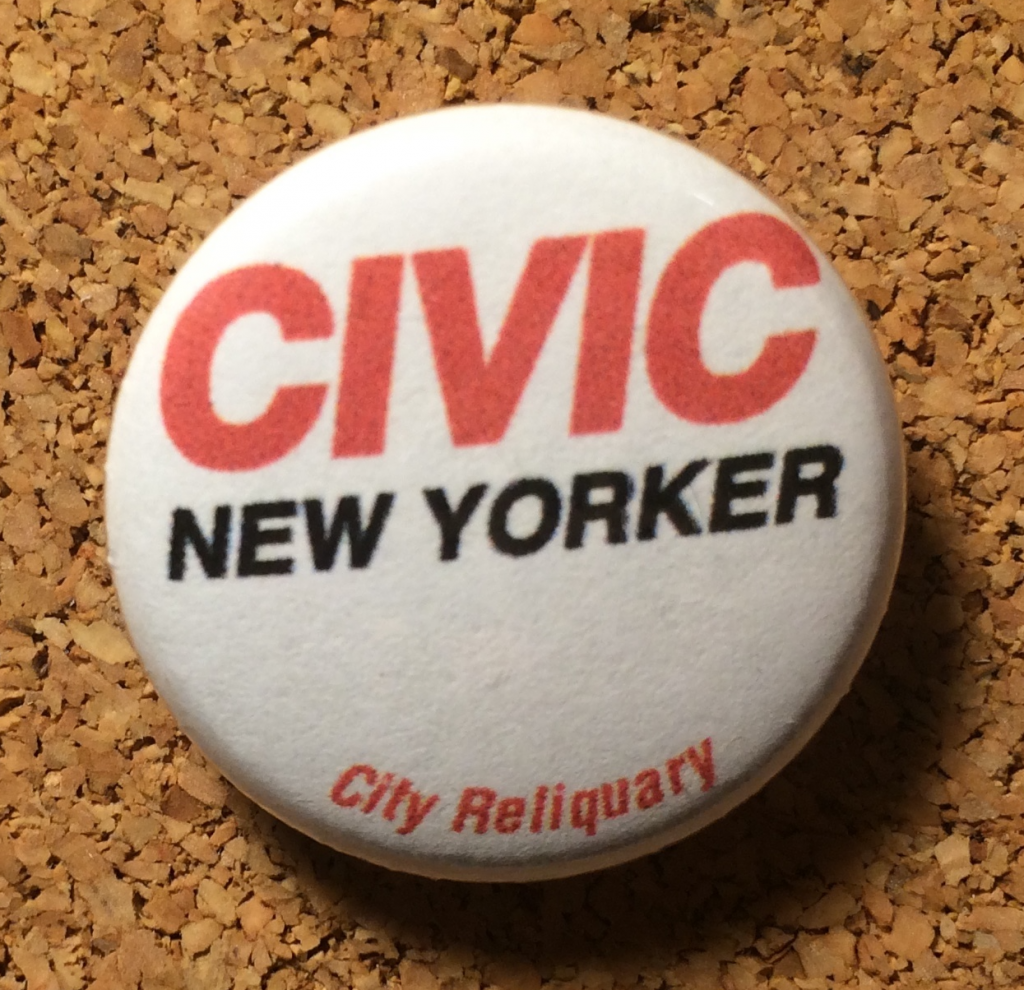 On Friday, January 20th, The City Reliquary Museum & Civic Organization will inaugurate Beyond Patience & Fortitude, an event series designed to educate and empower New Yorkers in the current political climate. From January to March, we'll host presentations and performances that inform and inspire us to civic action. It's time to move #beyondpatience! Ticket on sale through Artfully.
Admission includes access to:

Materials for protest signs and button-making materials for making your own Civic New Yorker pin (or feel free to bring your own design)
Posters, stickers, and informational "Know Your Rights" flyers provided by

Interference Archive

and the ACLU

Copies of

RESIST!

, a newspaper of political comics and graphics, many by female artists. 

The paper presents a powerful collective female voice and an affirmation of unity, diversity, and creativity. 

RESIST! is guest-edited by Françoise Mouly, art editor of The New Yorker, and writer Nadja Spiegelman. It is published by Gabe Fowler of Desert Island Bookstore.
Performance of Aaron Copland's "Lincoln Portrait" by
Loud Box
and screening of Bill Santen's nostalgic, wistful treatment of Barack Obama's 2008 inauguration.
Get your tix ahead of time through Artfully!

---
Pt. I (Jan. 26-Feb. 16)
Tickets are on sale through Artfully. All admission is $10/$8 Reliquary members:
Jan. 26: Screening of United In Anger: A History of ACT UP and a discussion with Jim Hubbard. Drag queen, writer, and activist Miz Cracker will perform before the screening and participate in the discussion.
Feb. 2: Dan Lenchner presents his collection of snapshots capturing daily life of Nazis in the 1930s and '40s. His collection illustrates Hannah Arendt's idea of the "banality of evil:" The photos present shockingly relatable, human experiences of those who supported or perpetrated one of the worst atrocities of the 20th century.
---
Feb. 9 Rescheduled to March 8: Gabe Fowler of Desert Island will discuss RESIST! a tabloid newspaper of comics mostly by women artists that comment on a Trump presidency. With a performance by Alana Amram.
---
Feb. 16: Speak Out! Rise Up! Podcast Workshop w/Keisha "TK" Dutes of Bondfire Radio. Guests will learn the basics of developing a podcast, and then will have the opportunity to record their own 30-minute podcast.
---
Pt. II (Feb. 23-March 9)
Tickets are on sale through Artfully. All admission is $10/$8 Reliquary members:

Feb. 23: Redefining "Native New Yorker": For many people, the term "native New Yorker" refers to someone born and raised in one of the five boroughs. Three special guests will offer a broader and more inclusive look at native culture in NYC:
Matt Levy, a Brooklyn-born New Yorker and co-owner of the Levy's Unique New York! tour company.
Ryan Victor "Little Eagle" Pierce, a member of the Nanticoke Lenni-Lenape Tribal Nation and Founder and Artistic Director of The Eagle Project.
Kaina Quenga is a native Hawaiian, from Hawaiʻi and lives in New York City.  She will share a performance of traditional Hawaiian Hula and chant.
---
March 2: American Life Through Muslim Eyes: Perspectives From Mother & Son: Author Sabeeha Rehman will read from her memoirs, Threading My Prayer Rug. This highly acclaimed book relates humorous and poignant moments from her life as a Muslim woman who immigrated from Pakistan to the US. The evening will include a discussion with Sabeeha and her son, Asim Rehman, about their experiences and perspectives as Muslim-Americans living in the US.
---
March 9: FREE LIKE OSCAR: Resistance Through Afro-Latino Culture: Melinda González, co-founder of BombaYo, discusses how traditions in Latino culture from the African diaspora can teach resistance and resilience. With a community healing drum sharing by Jose L. Ortiz, aka Dr. Drum, director of BombaYo.
---
We hope these events inspire civic action and greater understanding. The need for community is especially important at this moment. Look out for news on Part II of this series in the next few weeks.
Stay Civic!