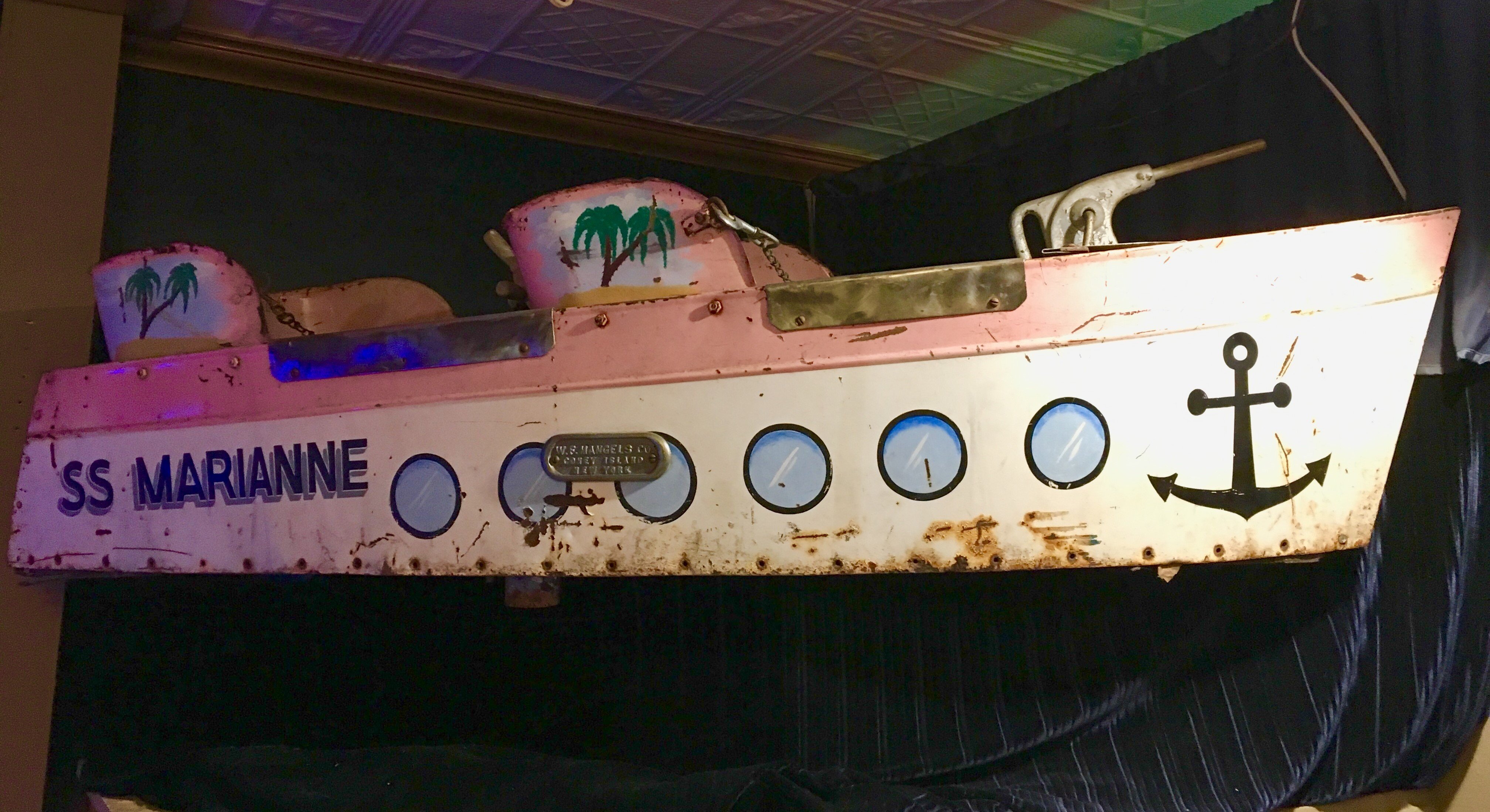 This tropical-themed boat was part of a children's ride named Speed Boat constructed by the W.F. Mangels Company of Coney Island in the 1950s. Speed Boat consisted of eight boats that followed a circular undulating track around a central lighthouse pillar. The boat's rear seat has a ship's wheel with bells attached, and the front seat has a cast aluminum mock gun.
William F. Mangels emigrated from Germany as a teen, and started his eponymous amusement ride company by the time he was twenty, in 1886. With his mechanic's training, ingenuity, and complete devotion to figuring out what would be the most fun, Mangels quickly became prominent in his chosen field. His most famous ride, The Whip, was first installed at Luna Park, Coney Island, in 1914 and spread rapidly from there, with more than 500 Whips in amusement parks around the world. Mangels held more than fifty patents for amusements he designed, including wave pools, shooting galleries, carousels, and coasters.
Mangels' love for the world of amusements led, in 1929, to his directorship of the American Museum of Public Recreation, located on Coney Island close to his own factory on West 8th Street. The Museum, dedicated to play facilities of all kinds, included in its collection carousel animals, patent documents, drawings of jousting matches and ancient festivals, bicycles, sleighs, marionettes, and an extensive library. Sadly, the Museum was not a financially successful venture; however, many of its paper holdings as well as Mangels' own company papers, blueprints, and drawings are held by Columbia University's Rare Book & Manuscript Library.
William F. Mangels died in 1958 and is buried in Green-Wood Cemetery in Brooklyn. His creations live on – you can still ride one of his carousels on Coney Island today!