Back to Homepage
Several months ago, I had the opportunity to join my son on a field trip to the Newtown Creek Wastewater Resource Recovery Facility in Greenpoint, Brooklyn. For years, I'd driven past the glittering, UFO-like building, and despite skeptical looks from others about my fascination with a sewage plant, I eagerly took the chance to visit. Being originally from Pakistan, where water is precious and clean water is even more valuable – to the point that we've witnessed mafia wars over the city's water supply – New York's vast, efficient water infrastructure has always intrigued me. (NOTE: global fast facts on water crisis- not just a Pakistan problem).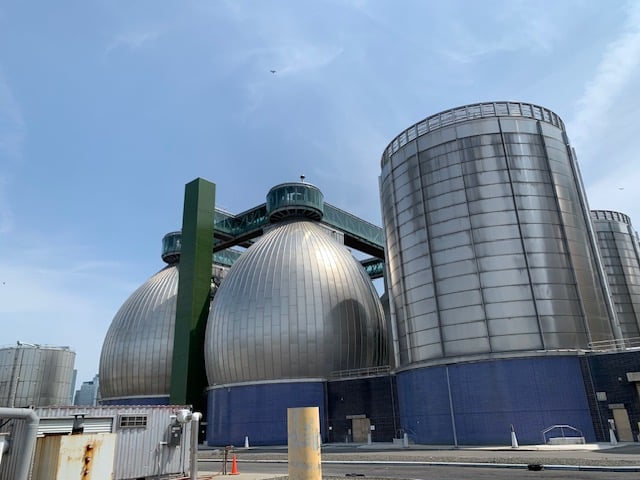 My visit to Newtown was well timed as the "very old shovel" episode was on the horizon.
The old shovel was found in Shaft 9 during a rehabilitation of the New Croton Aqueduct by the City Reliquary's resident Geologist Emeritus, Nik Sokol. Nik an engineer, was someone who was very instrumental in the Reliquary's early days and set up their New York Geology Section which includes a display of rocks and minerals from the World Trade Center and 2nd Ave Subway excavations. He no longer lives in the city but I was lucky enough to catch him on a visit. I figured an unusual stone would be our focus but instead, I was surprised when we settled on the very old shovel.…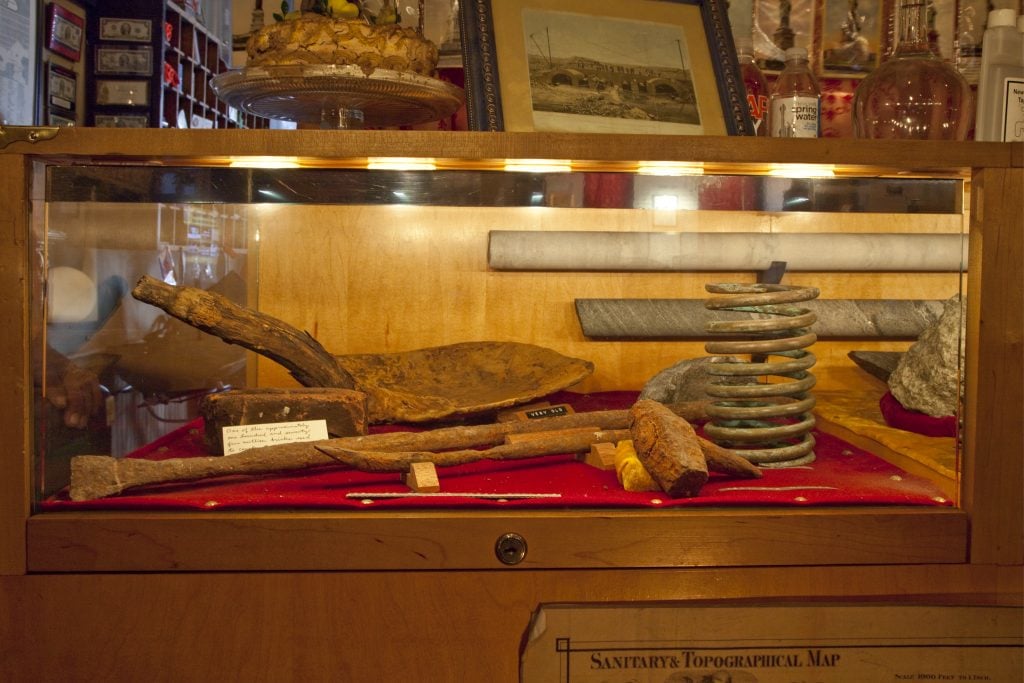 New York City boasts the largest engineered water system in the nation. Beneath the city, a complex labyrinth of tunnels with water mains stretching about 6,500 miles. As noted in an article titled "City of Water" from The New Yorker, "As an engineering feat, the water-tunnel system rivals the Brooklyn Bridge and the Panama Canal." Every day, this system provides more than 1 billion gallons of water to about half the state's population of 9 million people. The water is channeled from reservoirs Upstate, pumped, and then drawn via gravity from a 1,900-square-mile watershed, almost the size of Delaware. The Catskills/Delaware watershed provides the majority of this water, while the Croton water system, the site of our "very old shovel," supplies 10%. We discuss the Croton Aqueduct and the early days of NYC water supply in detail in our episode.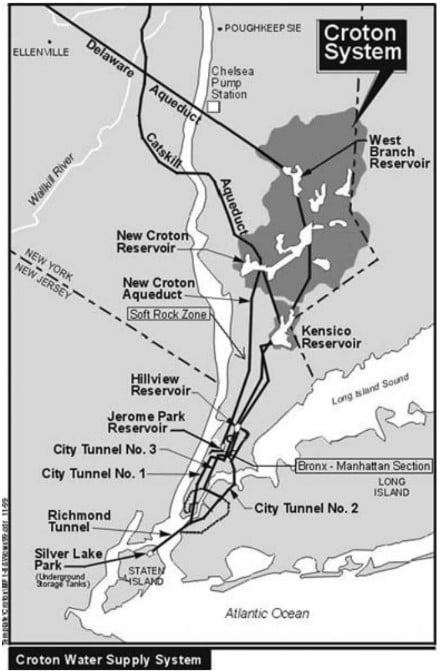 Left: Full map of the Croton Water Supply System – from the reports of Nik Sokol
Right: Outside shaft 9 – photo courtesy of Nik Sokol
While it's natural to marvel at the astonishing engineering and construction achievements of this system, it's crucial not to overlook the laborious efforts that made it possible. The toil of the people who dug, blasted, and rehabilitated these tunnels allows us to enjoy conveniences like riding the subway, flushing a toilet, or washing dishes, the accessibility of which we never really ponder. These tasks were largely executed by sandhogs, or urban miners/tunnel workers, who have been a vital yet invisible part of the city since 1872. They formed their union Local 147 in 1906 and since then they've built almost every tunnel and many bridge foundations in the city, passing on their skills from one generation to the next. However, this is perilous work, often involving loud, dark, dusty environments, and potential hazards such as decompression sickness and physical injury. A quick Google search reveals numerous personal injury lawyers specializing in sandhog cases.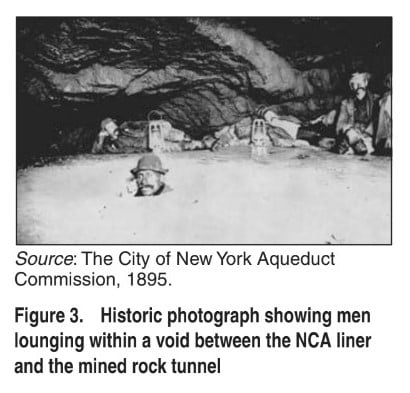 Right Image (courtesy Nik Sokol): Men constructing New Croton Shaft 26 from course report on historical preservation of the Croton system, from the City of New York Aqueduct Commission Reports on the New Croton Aqueduct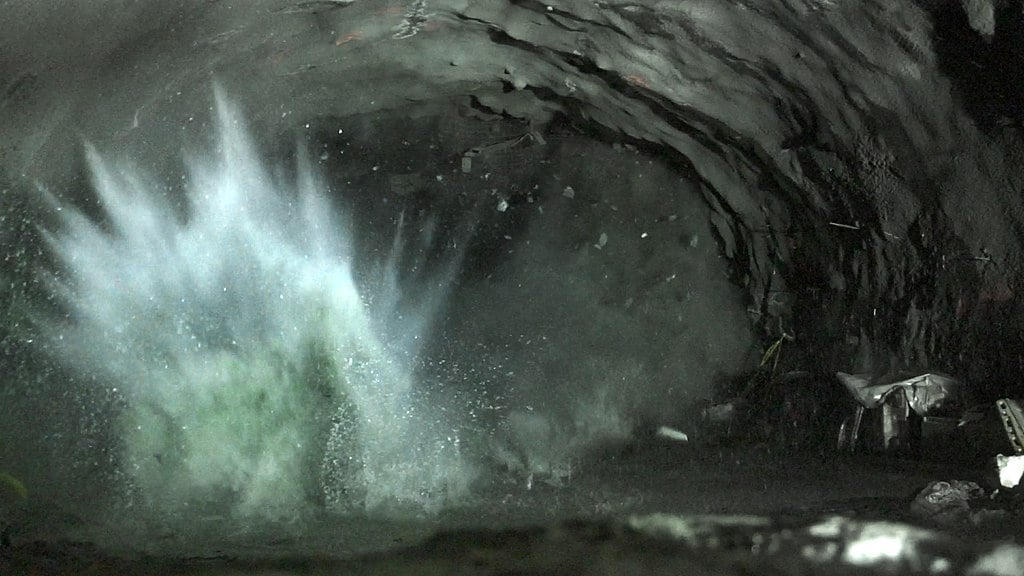 Left: 28 January 2010- Sandhogs continuing work on the LIRR station cavern below Grand Central Terminal and approx 100 feet below street level – photo US Dept of Energy
Right: Sandhogs working on the East Side Access megaproject have concluded major blasting under Grand Central Terminal, where they are building two enormous caverns 160 feet below street level that will house eight tracks for Long Island Rail Road trains (photo- Metropolitan Transportation Authority of the State of New York)

In the end, the "very old shovel" stands as a testament to generations of laborers and their immense contribution to our essential infrastructure. It deserves its place alongside the Statue of Liberty or the subway in this season of Undiscarded. And if I ever get the chance to meet a sandhog, I'll certainly ask about any encounters with alligators down there.
References and Extra Reading
History of Water in New York & Resources for Educators (from the Dept. of Environmental Protection)
How New York City Found Clean Water – Smithsonian Magazine
The Contentious History of Supplying Water to Manhattan – Museum of the City of New York (Juicy stuff & great images)
Croton Aqueduct Celebrates 175th Anniversary – Medium (A few years old but finally something on the New Croton Aqueduct)
City of Water – The New Yorker

About the Sandhogs
The Dangers Sandhogs Face Every Day for You to Commute – NY Post
The Sandhogs Who Built the New York Subway – Jstor Daily
The Sandhogs Who Brought Water to NYC – Urban Archive
Go Underground With the Workers Who Dig NYC's Subterranean Tunnels – Business Insider

Tags: Croton Aqueduct, Croton Reservoir, Geology, Immigrants, New York City water