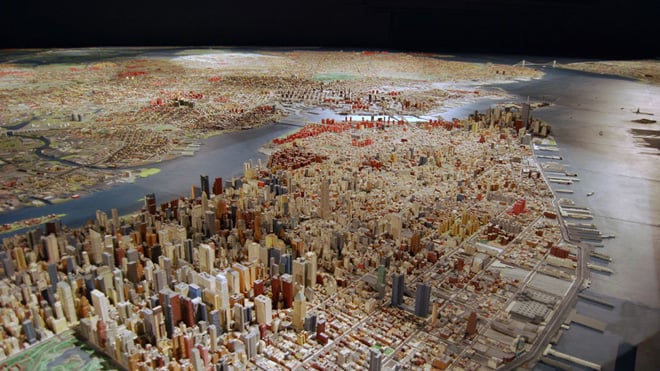 QUEENS, NY! The Panorama Challenge is back! Come to the Queens Museum of Art on Friday, March 12th from 7-10pm to participate in the world's ONLY geographical trivia-based game night involving the world's largest panorama – The Panorama of the City of New York! Participants will compete in teams to test their knowledge of New York City geography. Team members will be asked questions ranging from easy to difficulty as game controllers assist by highlighting landmarks, bridges, neighborhoods and other sites with far-reaching laser pointers. Admission is free and there will be beers sold and snacks served.
The Panorama of the City of New York, originally commissioned by Robert Moses for the 1964 World's Fair, is the largest architectural scale model in the world. With a scale of 1 inch: 100 feet, the Panorama has always offered a truly unique view of the five boroughs, one that has left the millions who have seen it in awe. The Panorama made a triumphant return in February after undergoing a massive lighting and multimedia effects upgrade. Now featuring a twelve-minute tour of the model and the city it represents, the recently-upgraded Panorama will continue to transform how viewers experience this one of a kind treasure, and the city it captures in wonderful miniature.
The Levys' Unique New York!, NY's First Family of Tour Guides, will host this NYCentric event by pointing out notable icons of New York City via laser pointer as well as giving audio clues to assist the teams. NYCentric events are entertaining events that explore, spotlight and celebrate everything New York City. Produced and hosted monthly by The Levys' Unique New York!. They aim to introduce New Yorkers and visitors alike to fascinating stories and locales of the city.
The funds raised will benefit The City Reliquary, a one-room museum of curiosities located in Williamsburgh, Brooklyn. A homegrown museum devoted exclusively to New York memorabilia, The City Reliquary's collection is comprised of everything from fragments of Brooklyn Trolley cars and skyscrapers, to soil samples from all 5 boroughs and an extensive Statue of Liberty collection. Created and produced by Levys' Unique New York!, New York's first family of tour guides, performers and event impresarios, the Panorama Challenge is sure to educate and entertain New Yorkers of all walks of life.
INFORMATION:
Friday March 12th, 7-10pm
Queens Museum of Art: Flushing-Meadows Corona Park
FREE! Register your team with Mark@levysuniqueny.com or 718-287-6177 by Thursday, March 11th
Tags: Events, levy's unique new york, Panorama Challenge, queens museum