$20 general / $15 Reliquary Members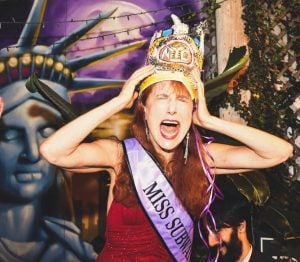 On Thursday, September 27 at 7 PM, the 2018 Miss Subways Pageant returns at Littlefield, 635 Sackett Street in Brooklyn. You might recall that last year we revived this quaint but outdated spectacle and gave it a modern spin. We had so much fun that we're making it an annual event!
With a wink and a nod to the Miss Subways pageants held in NYC between 1941 and 1976, this event is a call to arms for advocates and lovers of the NYC underground. It's been another roller coaster year for the NYC subway.  Some good – Fair Fares! and the "Fast Forward" modernization plan – but as we all know: the subway is still a mess, the fixes still need funding, and we have to keep up the pressure.
In a night of performances spanning the classy, the trashy, the weird, and the whimsical, contestants will demonstrate their devotion to their subway line of choice. But only one will take home the transit tiara!
Tickets are on sale now. $20 general admission, $15 for museum members. All proceeds benefit The City Reliquary and the Riders Alliance.