As a kid, I watched a lot of the Disney Channel. One of the most exciting things they would do was to pull a movie from "the vault," classic Mickey Mouse short films or other cartoons that they hadn't shown in a long time. What made it so exciting and special was that you couldn't watch this movie any time you wanted, just the times when they would pull it from the vault every couple of years.
In the same tradition as the Disney Channel's vault, the City Reliquary's basement hold artifacts that have been donated to us but, due to space constraints, cannot be displayed. Much like the vault, the works that we will be featuring in this irregularly reoccurring feature are not things that can be seen anytime you visit the museum, making them have that same special quality.
Recently, a series of postcards of the Statue of Liberty came into the City Reliquary Museum's possession. Unlike our wall of Lady Liberty postcards hanging in the museum, these were created for a special event. Issued in the mid-eighties, these cards were created to commemorate the 100th anniversary of the creation of the Statue of Liberty.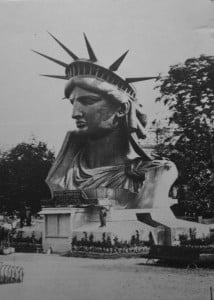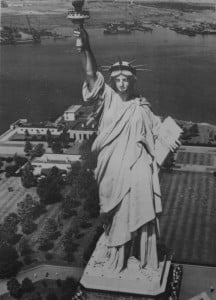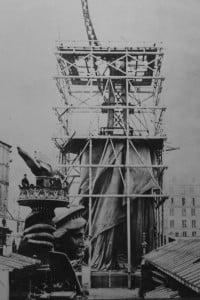 Each of the pictures donated to us depicts the Statue of Liberty in different phases of its construction: the head of the statue in Paris before the completed statue was assembled, the construction of the work on Liberty Island, and the completed figure.
In addition to the photographs that were donated to the museum, New York Public Library's Digital Archive also provides some interesting photographs that provide insight into the monument's construction.
Like much of the ephemera in our collection, the construction of the Statue of Liberty is often forgotten, leaving the end product to last in everyone's memories. However, thanks to the New York Public Library and a generous donation to our museum we can relive the beauty that was the creation of this monument.
Do you have pictures that you've taken at the Statue of Liberty? Funny or serious, feel free to leave them in the comments!