Exhibition Hall
The Dick Power Story: A Dark Day in Sunnyside
A Bike Obsessed Life of Damage and Redemption

On View From June – September 2014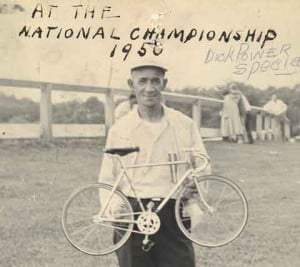 Long before every hip Brooklyn neighborhood had at least one or two bike boutiques, Dick Power was crafting fine artisan bicycle frames in Sunnyside, Queens.
A Dark Day in Sunnyside is the newest exhibit by Brooklyn-based The City Reliquary Museum. It examines the life and times of this man, whose obsession with racing bicycles led to consequences inspiring, but also dark.
Catch a glimpse, reflected in the silver braze, of a most remarkable life. Some of Dick Powers' bikes are on display courtesy of the collection of Edward H Albert, a former road racer, avid vintage bicycle collector, and dedicated chronicler of bicycle history.