Exhibition Hall
Mazel Tough: Jewish Gangsters of New York: 1900 – 1945
Illustrated Portraits by Pat Hamou
The City Reliquary Museum is pleased to present Mazel Tough: Jewish Gangsters of New York: 1900 – 1945, an exhibition of illustrated portraits by Pat Hamou. Inspired by the intrigue of vintage mug shots and the dark charms of historically colorful characters, artist Pat Hamou's own crime of passion has been the brief yet rich history of the Jewish Gangster. The 29 gangsters presented in the exhibition left a fascinating, yet dark, blemish on the early Twentieth Century Jewish-American experience. Using archival images as a springboard, artist Pat Hamou has created intricate, colorful and textured pen and ink, and watercolor drawings that reflect a bygone era while bringing new life to them.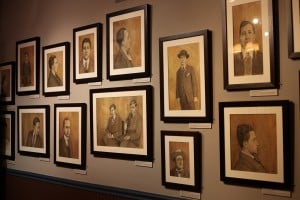 The title of the exhibition reflects the path some Jewish immigrants to New York chose in order to gain upward mobility in a new world. Many of gangsters highlighted in Mazel Tough came as young children fleeing the pogroms in Russia and anti-Semitic surroundings in Eastern Europe – having witnessed what their elders had to endure. While some of this anti-Semitism continued when they arrived on the Lower East Side in the late 18th and early 19th centuries some chose to stand up and not succumb to what their parents had to.
The criminal paths of gangsters like Abe Reles, Meyer Lansky, and Arnold Rothstein (and many more) are highlighted in text accompanying the exhibition.